"The Inn" Pub & Restaurant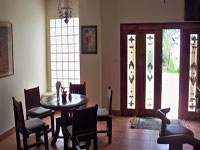 Our Restaurant serves authentic Thai Cuisine and highly recommended German and English favorites purchased and cooked with integrity, served with hearty portions and at moderate prices. Try our Breakfast, served "all day". Continental Breakfast, American Breakfast, German Farmer Breakfast or the great English Breakfast. Thai Breakfast available for your Thai friends or family. Fresh brewed Arabica Coffee or English Breakfast Tea comes with any style of ordered Breakfast together with a glass of 100% fresh orange Juice. Home Cooked Food and Drinks at fair prices.
Dinner Highlights are authentic German Schnitzel, Cordon Blue, British Liver and Bacon and Thai fried Noodles with fresh Seafood. Rack of Ribs for the hungry Guys or Fish and Chips for your Kids.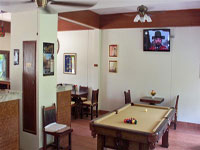 Try our hearty German Breakfast Special: "Strammer Max" Dark Rey Bread topped with smoked Ham, Cheese and 2 Sunny side up Eggs. Or our Cold Platter with Ham, Salami, Cheese and fresh Bread.

BBQs are our specialty, just tell us what you want and we will arrange the rest.
Our "Inn" is also available for your private Party, Birthday or Night out with friends or family. Great deals on Buffet food, BBQ Specials and catered parties.