"The Inn" Pub & Restaurant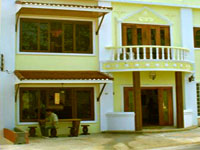 The Inn Patong was established in August 2011 by the
Owners of Baan Suan Villa - Patong, aiming to offer Quality Home Cooked Food and Drinks at fair prices. Enjoy the relaxed cordial atmosphere and let our friendly but attentive staff look after you.

Our Inn offers Ice Cold Beer and generous measures of quality Wines and Spirits. Relax on the Terrace or our outside Patio and quaff a pitcher of Margarita or Sangria. Bar snacks are available from our Menu for those who do not want a full meal. Shoot a game of pool, complimentary for all our customers. Enjoy freshly brewed coffee, Espresso and Lattes brewed from Thai Arabica Beans.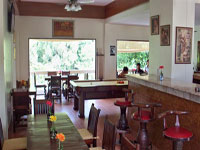 Dine in style at our restaurant furnished with antique teak furniture from North Thailand that adds a special touch, or dine in the open on the terrace. We serve International and Thai food purchased and cooked with integrity, served with hearty portions and at moderate prices. Our Burgers and Ribs from the grill are much acclaimed. Come at any time and indulge in our full English Breakfast, proper Bacon and Sausages or the famous German Farmer Breakfst.
Also available are three large Guestrooms that are ideal for people who appreciate escaping from the cacophony of life below. Rooms are furnished with a double bed, TV and DVD player, hot water shower, air-conditioning, fridge, a private entrance and two of them with a large balcony overlooking the Patong mountains.